Rice is the most important staple food in Vietnam, accounting for a large share of exports. The market is always fluctuating, the demand as well as the great competitive pressure, Vietnamese rice enterprises have to face many great challenges. And one of them is the story of making a rice brand that cannot be ignored is the plastic packaging of rice.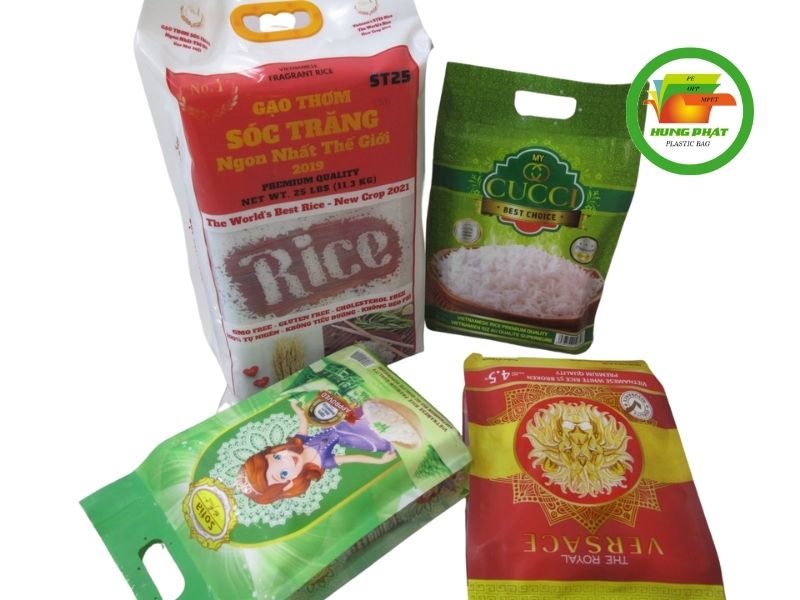 What types of rice packaging are available today?
Plastic bags for rice appear on the market with many different designs from design to material and price. With each type of plastic rice packaging, there will be different advantages and disadvantages depending on the requirements of the business. On the market, the types of rice plastic packaging can be classified as follows: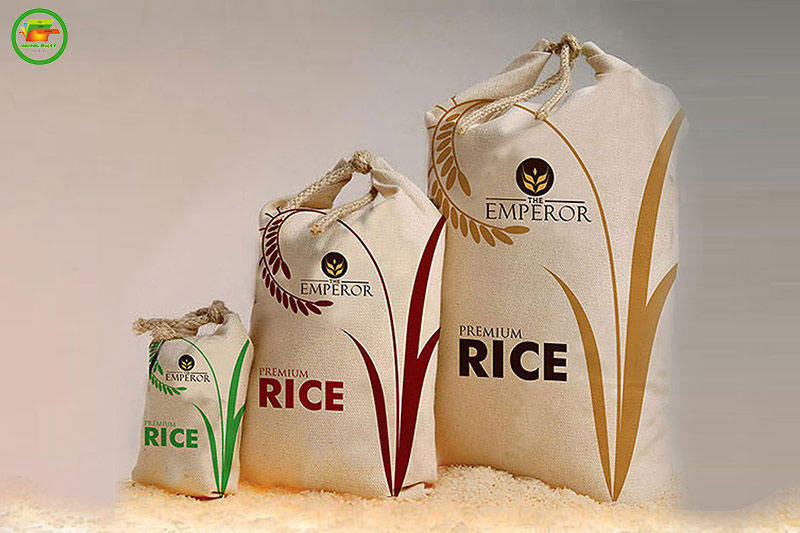 1. Classification of packaging by form
a. Plain rice plastic packaging, without printing any information or colors on the package, only for the purpose of preserving rice. Does not serve the needs of rice businesses as a trademark. The production cost of this type of rice plastic packaging is low, because it is not invested in the packaging production process. Mainly this type of plastic packaging is used for small businesses. This type of rice plastic packaging is also the cheapest on the market today.
b. Rice plastic packaging is carefully printed from logo, company information, address, illustrations, … eye-catching design, extremely attractive colors. This is a high-grade rice plastic packaging, often used in large enterprises, factories, domestic and foreign production brands.
Each type of rice plastic packaging is designed with different sizes to serve the diverse needs of customers. Popular are the following rice plastic bags: 5kg, 10kg, 15kg, 20kg, etc.
2. Sorting rice plastic packaging by material
a. Premium white rice packaging
High-grade plastic rice packaging or export needs are usually made from PP plastic material. This high-end packaging line is coated with BOPP film and printed by gravure printing to produce eye-catching images that impress customers and consumers. In addition, this type of rice plastic packaging can be sewn with a PE cage bag to help preserve the product better.
This type of rice plastic packaging has a high production cost, but they will help businesses create a brand impression in the eyes of their customers. At the same time, this packaging product will best protect rice without worrying about long-term transportation or long-term storage.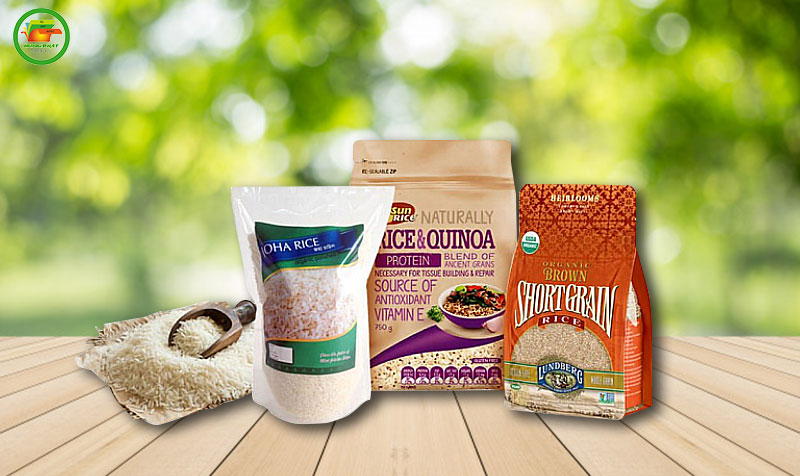 Rice plastic packaging is mainly used for the domestic market, in small businesses, purchasing hubs or farming households. Therefore, this type of packaging has a fairly simple design, usually a single bag that is not coated and only prints basic information, without images or images that are not attractive. This product is popular and cheap, so it costs less.
To build a brand of rice production in the market, plastic packaging for rice is an indispensable factor. Hopefully, through the above article, you can know more information about the types of rice packaging on the market, consider choosing the right type of rice packaging for your business.
If you have any questions about plastic packaging or need to contact us to place an order, we are always ready to advise and support you.
Hung Phat Plastic Packaging – a manufacturer and supplier of all kinds of plastic bags for rice in the market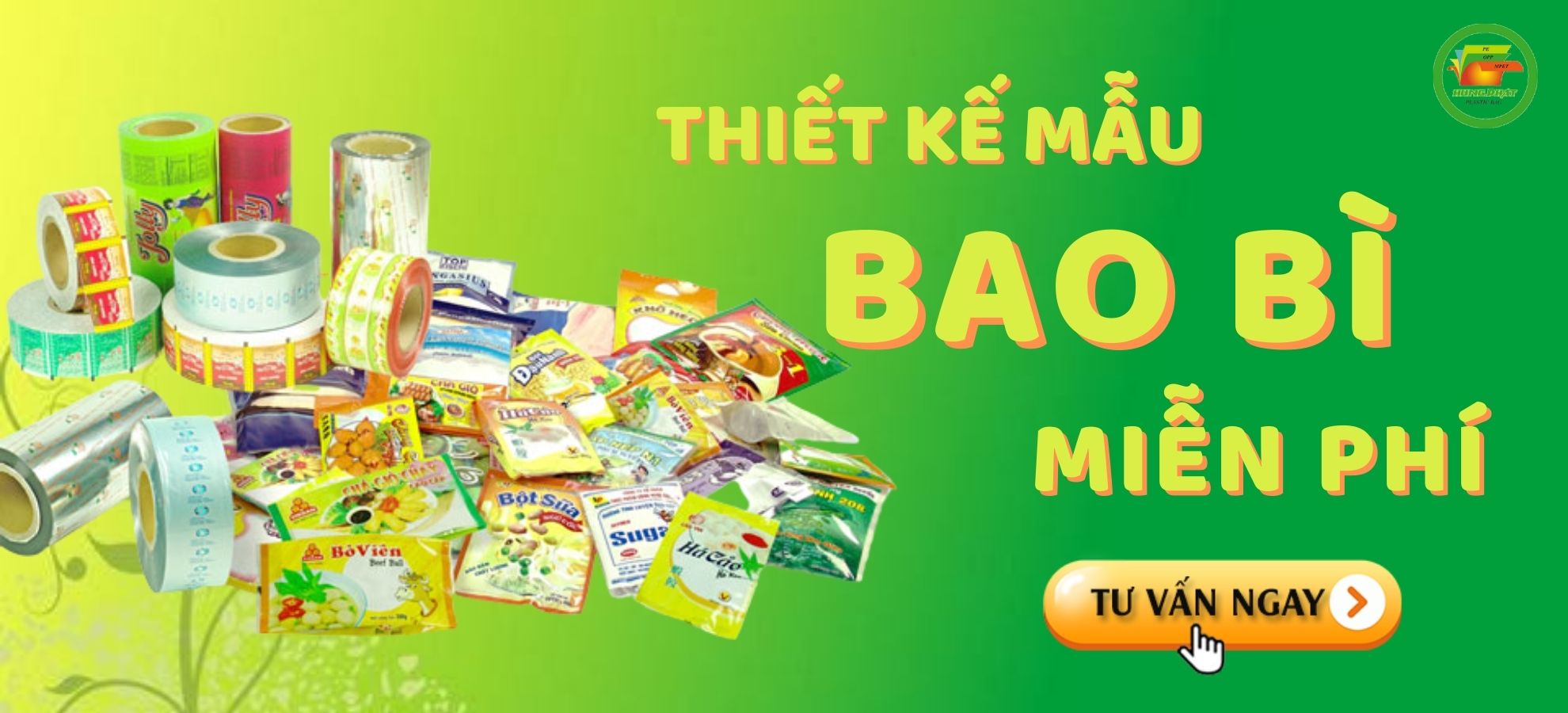 Contact address for packaging Hung Phat rice
Address: 288 Hamlet 2, Commune, Duc Hoa Dong, Duc Hoa, Long An, Vietnam
Phone: 0988 539 727 (24/7)
Email: guojun17@gmail.com
Website: https://baobinhuahungphat.com