Regardless of the type of product, companies must understand certain processes and requirements. And the production of food packaging is no exception. You can't just produce whatever you want, but you need to follow the basic general requirements of that industry. This article of Hung Phat plastic packaging will help you learn about some issues surrounding the production of food packaging.
General requirements when producing food packaging
All types of food packaging can be made from a variety of different materials, but all need to meet the requirements of insulation and protection to limit impacts, as well as external influences on the food. with product inside.

Food packaging must ensure durability as well as toughness to keep the product safe inside because in many cases the products will be stacked during transportation.

Food packaging needs to have creative and unique designs, but it must not be too different from the product inside to avoid the situation of "hanging goat's head, selling dog meat".

Attention should be paid to the problem of recycling – decomposing packaging to provide the best solutions after the packaging is released into the environment..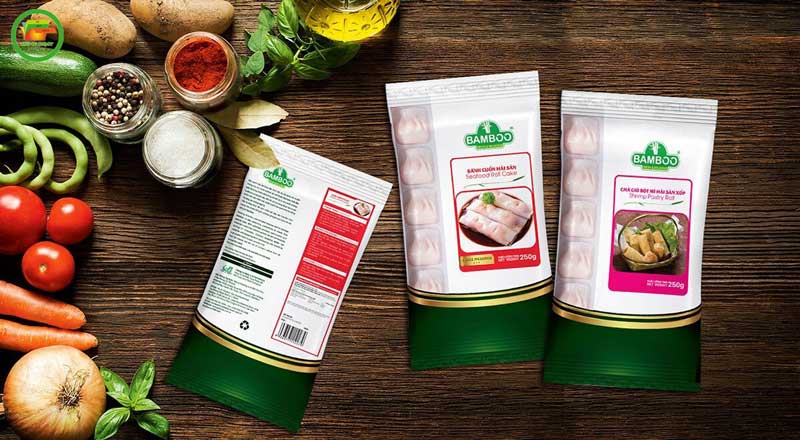 Food packaging production process
To produce food packaging, it needs to go through many stages. Because it depends a lot from factors such as materials, images, colors, … here we will introduce you to the most basic steps:
Gravure printing: In this step, thin films in rolls are continuously printed with a variety of colors depending on the customer's requirements.

Coating: This step is done for some types of packaging made from materials such as aluminum, plastic, paper, ..

Split roll: In this step we will proceed to divide the packaging into small rolls, which are rolled into several layers. The sizes of the types of packaging also depend on the purpose as well as the requirements of the customer.

Printing design: in this step, it also depends on the requirements of the customer that the company will print.

Inspection and packaging: before being delivered to customers, it will be carefully checked again and boxed.
Above are a few shares of Hung Phat plastic packaging on issues surrounding the production of food packaging. If you have any questions or need to find out more information about packaging, you can visit our website.: https://baobinhuahungphat.com/
——
Call us as soon as you have questions about the company or want to consult more about the product
Address: No. 288 Hamlet 2, Commune, Duc Hoa Dong, Duc Hoa, Long An, Vietnam
Email: guojun17@gmail.com
Website: https://baobinhuahungphat.com