Tea packaging plays the role of preserving the delicious product inside. At the same time, they also help businesses convey deep messages to customers. To own a beautiful and quality packaging, you should connect with a reputable supplier.
HIGHLIGHTS 3 OUTSTANDING USES OF TEA PACKAGE
On the market today, there are many types of beautiful packaging to meet the needs of customers. At the same time, this is also a product that makes an impression on buyers at first sight. At the same time, the types of tea packaging also bring the following outstanding uses:
Packaging has good preservation ability
Vacuum tea packaging has the ability to separate from steam and air. Since then, the product is always kept in a dry environment, avoiding mold growth. At the same time, ensure the quality of the drink is always delicious, beautiful color.
Convenience in transportation
In addition, the packaging of green tea also helps the units to facilitate the transportation process. Each product has a certain weight, so it is easy to count. Above all, even though the tea truck is distributed, it still retains its integrity, without worrying about damage.
Bring luxury to the product
In particular, tea packaging also brings luxury to the product. Looking at it, customers find it neat, sophisticated, convenient to use and give as gifts. At the same time, consumers know the weight, mixing method, place of production, etc. thanks to the information printed on the product.
=> See More: Plastic Coffee Bags
THE POPULAR TYPES OF PACKAGING FOR COMPLEX TEA MILK
In fact, most types of tea packaging on the market today are made from laminated films. Accordingly, they are divided into 3 categories below: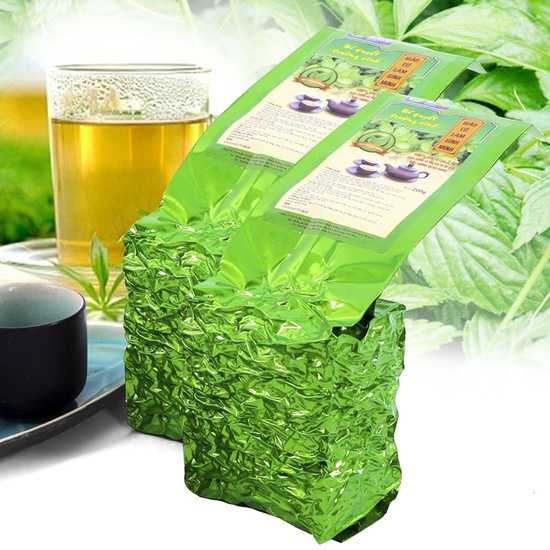 OPP/MCPP laminated film packaging
OPP/MCPP tea bag is a 2-layer laminated film with a thickness of 50 mic to 70 mic. This product is popular in the market with low price, good light and air resistance. From there, the tea can be stored for up to 6 months.
OPP/MPET/PE laminated film packaging
This is a 3-layer laminated tea packaging packaging with thickness from 70 mic to 130 mic. Using this product to pack tea will keep for 6 months to 1 year. This type of packaging can be vacuum sealed at a reasonable cost.
Laminated film PA/MPET/PE
This type of laminate also has 3 layers with thicknesses from 70 mic to 130 mic. Using the above type of packaging will preserve tea from 12 to 36 months with a special structure. The cost of the product is relatively high.
Call us as soon as you are wondering and wondering how to choose products to reduce input costs:
Hung Phat Plastic Packaging Co., Ltd
– Address: Hamlet 1, Duc Hoa Ha Commune, Duc Hoa Dist., Long An Town, Vietnam
– Email: guojun17@gmail.com
– Phone + Zalo: 0988 539 727 VND